SOLAR Payment Hub - Powerful System for Payment Transactions
Solar payment hub – universal software solution, designed for multi-step payment transactions. System is convenient and reliable in operation, easy in configuration and integration with third-party systems, provides high speed and fault tolerance transaction routing
COMPREHENSIVE FUNCTIONAL AND OPERATIONAL CAPABILITIES
payments, transfers, purchases: - processing requests for operations received from external systems, - generating additional transaction data, - saving incoming transaction data, - operations data transferring for further processing in other systems

consolidation of all transaction components processed with different systems into one business transaction

ability to cancel operations

support of the mutual authentication, 3D-Secure protocol which increases the security level of online card transaction services, user authentication by electronic signature, tokenisation system to protect electronic payments

analysis and dynamic tariffing of operations when combined with our solution SOLAR Dynamic Pricing

submitting notifications through SOLAR Notification Module, which generates notifications according to specified templates, based on the provided data

ensuring regular reporting based on data from your several information systems - when combining with SOLAR Reporting subsystem

online and deferred payment processing options
UNBOUNDED INTEGRATION OPTIONS
A request for an operation can be sent via flexible standard interfaces designed to interact with SOLAR platform applications and external components using the supplied web services or other protocols. Typical is a connection to the SOLAR Switch application, which registers, routes and converts messages. As the world of payments is constantly changing our company has foreseen the possibility of expanding the solution with new connectors, which plays the role of connecting links between SOLAR Payment Hub and various systems.
For example, SOLAR Mobile will become an excellent supplement which provides the opportunity to create new applications for remote customer service. All the facilities of your information systems will be available to customers in a smartphone or web browser.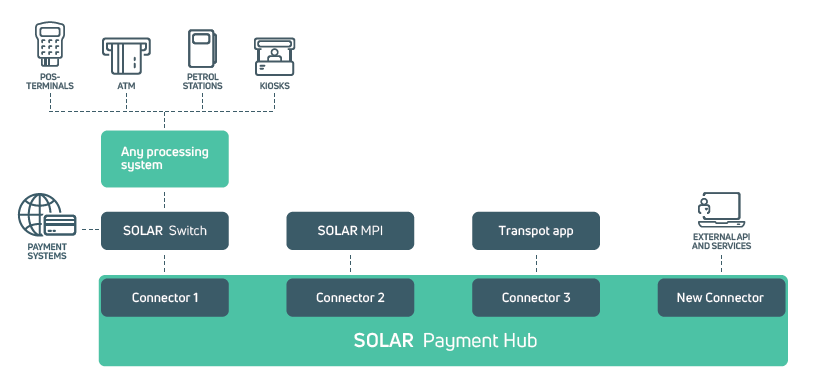 Solanteq, developer of the solar platform, is distinguished for creating innovative components used to build efficient, elegant payment solutions. Having rapidly expanded from its founding in 2014, solanteq provides state-of-the-art, powerful software solutions to retail banking businesses and global processing companies. In contrast to many other platforms, solar was built by our experts to meet the most recent challenges facing the global payments world, including digital transformation, customer experience, security and risk, and cost optimisation. This means that all of our valued clients reap the same guaranteed benefits, whatever their need – from the smallest pilot project and beyond.
FLEXIBLE, EFFICIENT
SOLAR Payment Hub is quick and easy to customize in accordance with the requests of the payment operator business processes, supports a variety of payment protocols used in the payment card industry (VISA, MasterCard, UnionPay, AmEx, Diners Club, JCB) and alternative payment methods.
All scenarios of operations are configured through the user interface. The product is a single orchestrator for all types of payments.
MULTIPURPOSE
transport payments

utility services payments

Mobile payments

payments for goods and services

fast payment system

P2P transfers between bank accounts
EASY LAUNCH AND INTEGRATION WITH ANY SYSTEM
Installation, launch and integration within 2-4 months

Minimal hardware and software requirements

Interfaces can be created with dozens of data systems

Out-of-the-box integration packages make it easy to connect existing systems as they are

Ready-to-use built-in base configurations
SECURE
Like all our products, SOLAR Payment Hub provides progressive and integrative approach to security and reliability by focusing on the most innovative production standards, using of mutual authentication and 3D-Secure protocol in case of transfers between bank accounts or cards.
SMOOTH PAYMENT FLOW
Combining with SOLAR SWITCH – for smart transaction routing and SOLAR MPI – in case of 3D-Secure protocol, SOLAR Payment Hub offers progressive service in the world of payments. Using rich functionality of this product and adapting potential scenarios to the needs of the specific business, our customers receive highly optimized elegant payment system.
We are sure that solar payment hub will support your business as an efficient, innovative tool ensuring proper electronic payments routing. Write us any time to arrange a free demonstration at our office!